P art two of my America trip was going to be spent driving from Los Angeles to Bass Lake, just outside Yosemite National Park. It wasn't really that far a drive, only 4/5 hours or so in total, but there were a few places along the way which were worth stopping at so we thought it would be nice to just break the journey up a bit and see as much as possible.
Katie, Tony and Sophie had already left Los Angeles and had basically done the same drive as we were about to do. Hopefully I would be meeting up with them all again in Yosemite at some point before they went off to San Francisco. They had been posting photos from different points of their journey up there and it looked amazing, so I was really looking forward to the drive. I wasn't really too sad to be leaving L.A, it was nice to spend a few days there, but I was ready for a change of scenery, and especially looking forward to spending some time in the middle of nowhere. I love living in a city, but sometimes it's just so nice to get away from it all and spend a few days out in the sticks.
So early one morning – well early ish….early for me anyway – we left L.A heading North. We were barely out of the city before the scenery started to get pretty spectacular. We were avoiding the main roads by sticking to the Pacific Coast highway which twisted its way up the West Coast from L.A to San Francisco. California on one side, the Pacific Ocean on the other. It was like something out of a film. I though of my friends driving up here a few days before in their convertible Mustang, and I have to admit I was pretty jealous. The views were just unreal.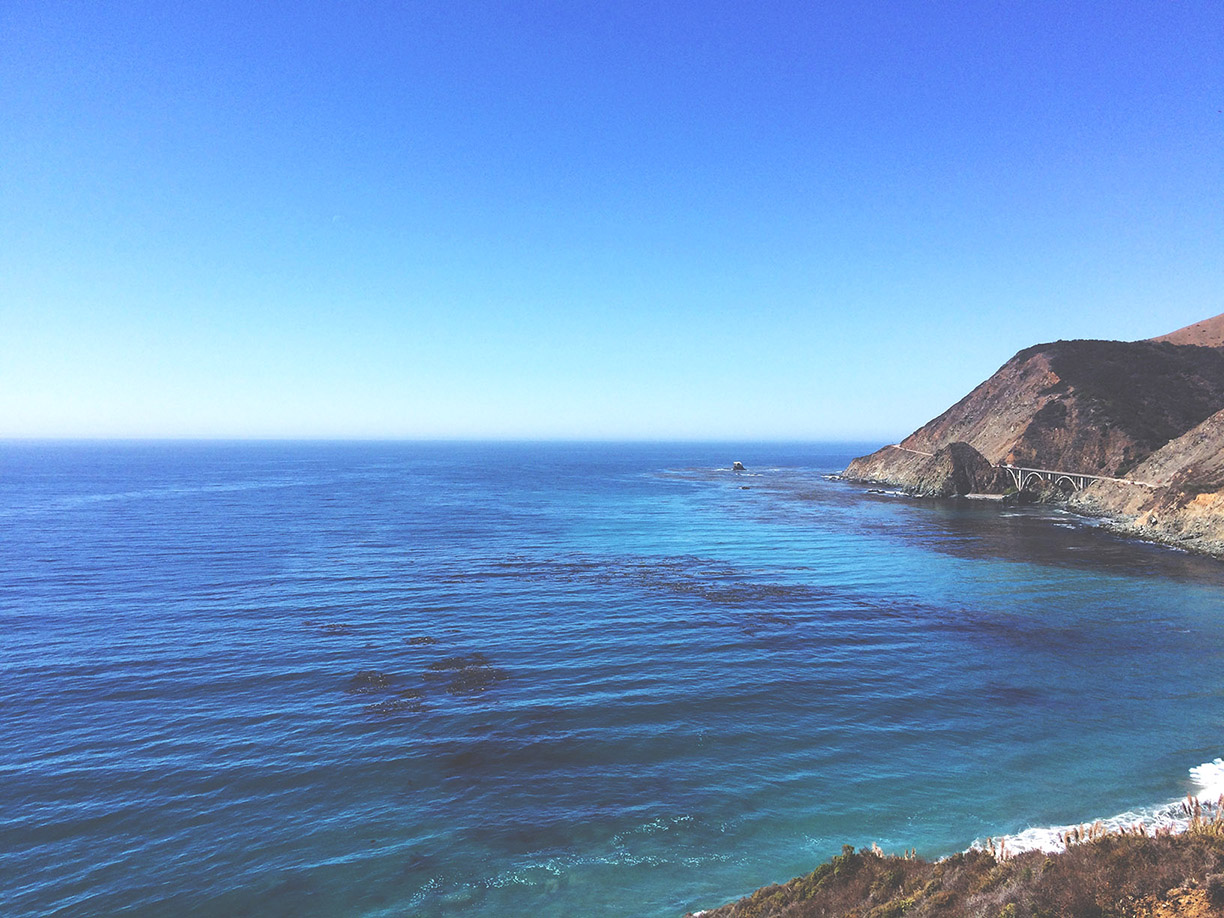 The first place we stopped along the way was Hearst Castle. It was a pretty bizarre place. The landscape had become very dry and bare. There wasn't really much to see, just endless dry grassy hills, then, plonked right on top of one of them, surrounded by nothing, this extravagant oh so over-the-top mansion, built in 1919 for the newspaper magnate William Randolph Hearst. In its day, it was the place to go if you were a somebody. Charlie Chaplin, Franklin Roosavelt, Winston Churchill and Joan Crawford were just some of the names SPOUTED out by the tour guide who had been guests of the estate. The place itself was just as bizarre as expected. It was like an explosion of Renaissance and Baroque interior design. The whole place had been designed and built to fit around priceless pieces obtained by the owner. Centuries old ceilings cut down to fit room sizes. Tapestries hanging from the walls adjusted to accommodate door positions. I remember one comment from the tour guide, a set of church choir pews from the sixteenth century had been flown in from Italy I think, but it didn't fit in the room it was intended for, and it was not architecturally possible to alter the room size, so instead the pews were simply chopped down to size. A piece of priceless craftsmanship vandalised to suit someone's extravagant design needs.
It was clear to see why this location was chosen as the location for the mansion, the view from the top of the hill was incredible. Three sides of the estate surrounded by endless rolling hills, the other side facing the Pacific Ocean. Nothing stood in the way of the views. My favourite part of the tour was definitely visiting the Hearst Ranch Vineyard. We had an amazing wine tasting session there, which then turned into an oil and vinegar tasting session – never even knew that was a thing – which of course ended with the purchase and consumption of more wine. No complaints from me of course.
We spent the night in Cambria and the next morning my parents and I were up early so we headed down the road to Moonstone Beach. Supposedly you could find these beautiful Moonstones lying around on the beach, so they went off in search of some to make their fortune. I just spend the whole time taking photos. The sun hadn't long risen so it wasn't too warm, it wasn't cold though. There was this really nice hazy sea mist hanging over the beach which was quite fun to try and photograph, it looked really cool with the sun shining behind it.
We drove on a bit up to a beach which was a nature reserve for Elephant Seals. Now I'm all for animals and all that, especially when you can see them in the wild and know that things are being done to protect them and their habitats, but my god did they stink. Still it was pretty cool to see them in the wild, they were literally everywhere. One part of the beach looked like it was just scattered with rocks and boulders, but it was these seals getting their tan on in the California sun. That's my kinda lifestyle!
The next place we stopped was Ragged Point. It was this tiny little town perched on top of the cliff with the most amazing view. Literally nothing but the ocean, it was so amazing and peaceful. There was an area just back from the edge of the cliff which was covered by trees, and it was being turned into a wedding reception venue. There was a long table right through the middle of the trees decorated with all sorts of plants and flowers, it was like something from a Disney movie. Above the table and the surrounding area, they were hanging light bulbs from the trees, kind of like you would hang fairy lights. It looked amazing even though it was still light so they were all switched off. I would have loved to have seen it when it got a bit darker. What an amazing place to have your wedding.
On our way to our digs for the night, we made one last stop at Point Lobos State Reserve to have a walk around the coast. Again, I couldn't get over how beautiful it was and how much wildlife there was to see. We spent a while watching two Vultures snacking on something floating not too far from the base of the cliff we were walking up. Bets were placed as to what it was, but even with two set of binoculars and a zoom lens we still couldn't come to a unanimous decision.  Anyway, dead animals aside, we then turned out attention to trying to spot some sea otters. It was pretty hard to find them. They're quite small, and the sea was scattered with debris from the local trees so every time a wave moved a log or something that was floating in the water we all thought it was an otter. Luckily we had David Attenborough with us – or our friend Clive as he's more commonly known – who can spot an animal a mile off. It didn't take his hawk eyes long to spot a couple of otters – real ones this time, not the kind that grow on trees.
When we were heading back to the car, literally just on the side of the road around a couple of small shed/hut things there was a whale skeleton just lying on the floor. It wasn't intact, there were different bits in different places. It was weird. There weren't any signs anywhere advertising it or anything, it was just there, propped up against the trees. Pretty cool to see, but like…why was it there? Very strange.
The last day of our little road trip we spent on 17 Mile Drive. Well, we only really spent the morning there as there was only a couple of things we wanted to see, one of them being The Lone Cypress. It was quite a famous sight in the area so we couldn't really go there without seeing it. It was quite a nice place for a photo op as well so after a couple of #lonecypressselfies we got back on the road heading for Yosemite. It wasn't too far to drive which was nice, so we arrived at Bass lake in the afternoon, our digs for the last week of the trip!