O ne of the places I have wanted to visit after years and years of going out to see my cousin in France was Carcassonne. The last time I came out it was on the shortlist of places to visit on my cousins day off, but it was trumped by Rocamadour so we never made it. This time there would be no doubt as to where we would go on my cousins day off, so I booked us into a hotel and we started to plan our little trip.
We left midmorning on Monday, and drove down to a small town called Bram, where we spent most of the day at the Wakepark –  see previous blog post.
After a full on day of wakeboarding, we then continued on to Carcassonne where we checked into the hotel and headed straight to the old part of town to get some photos of the sunset.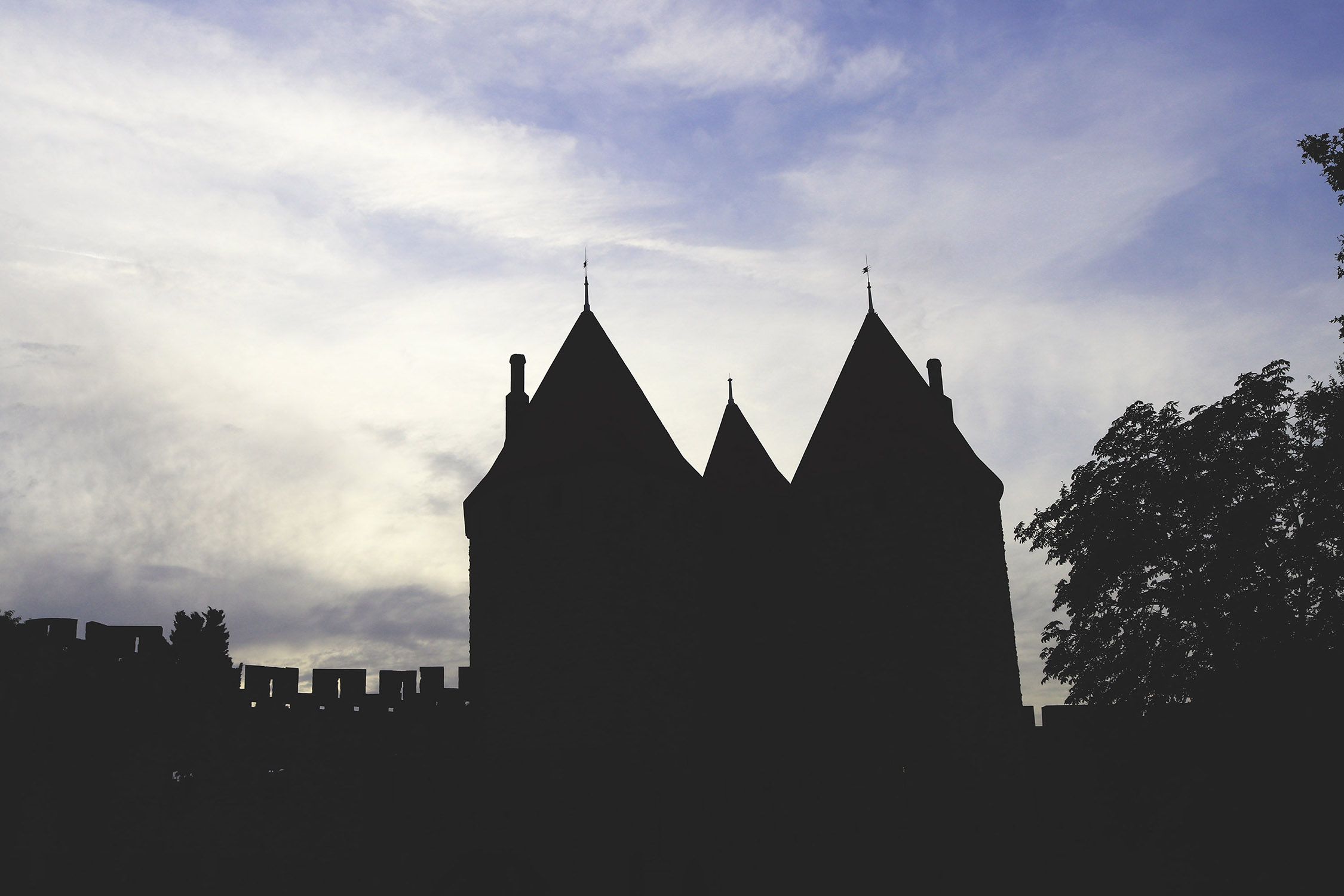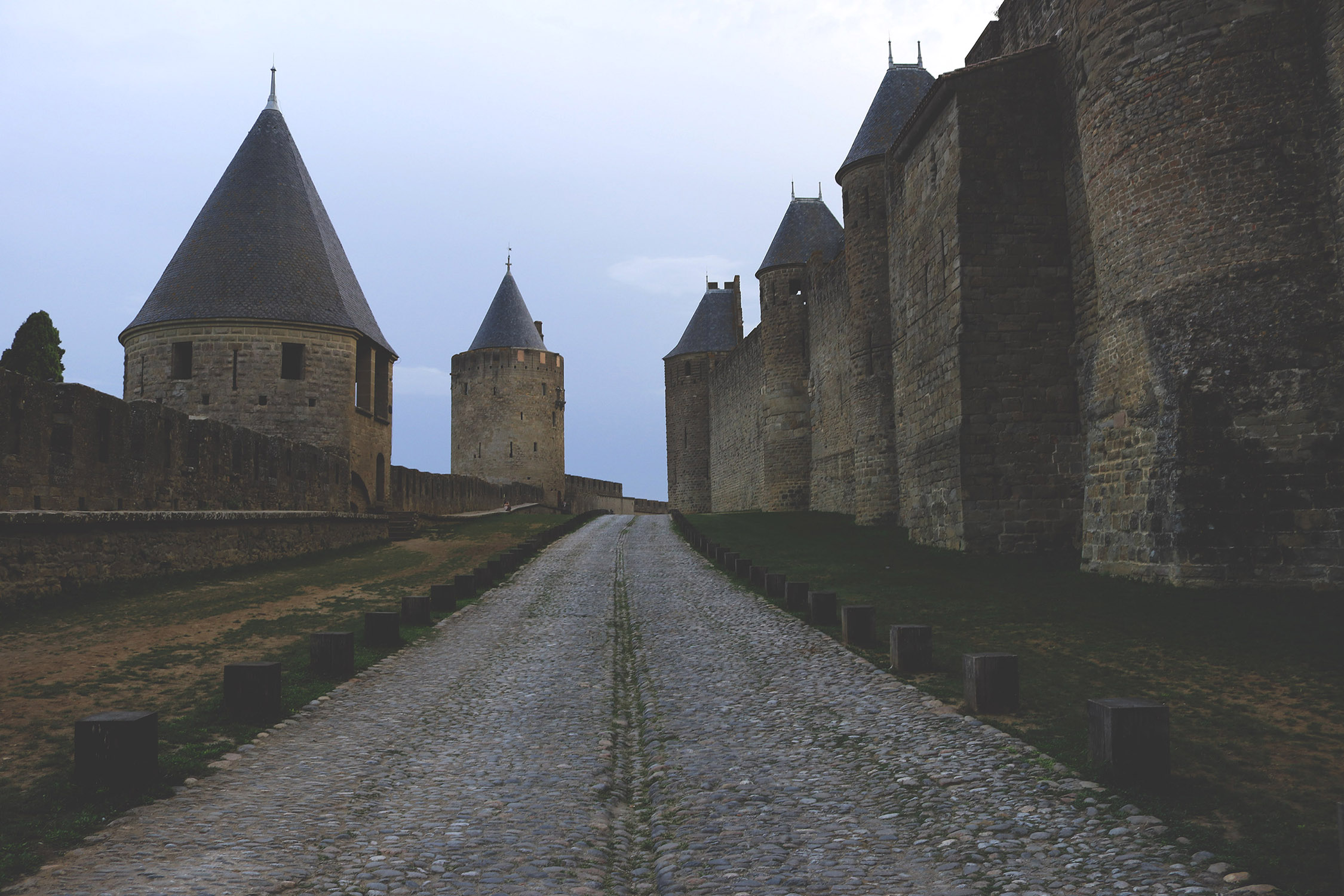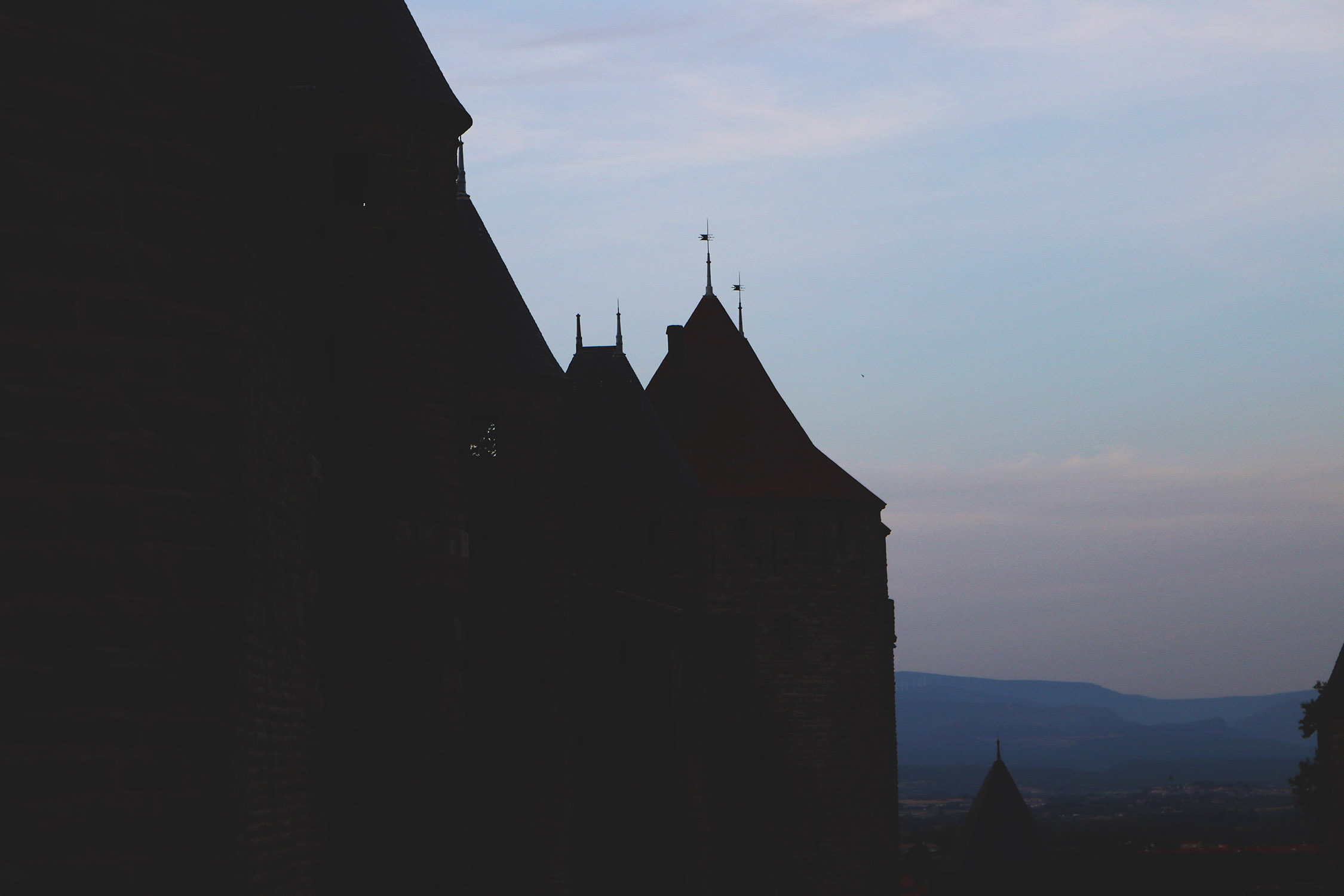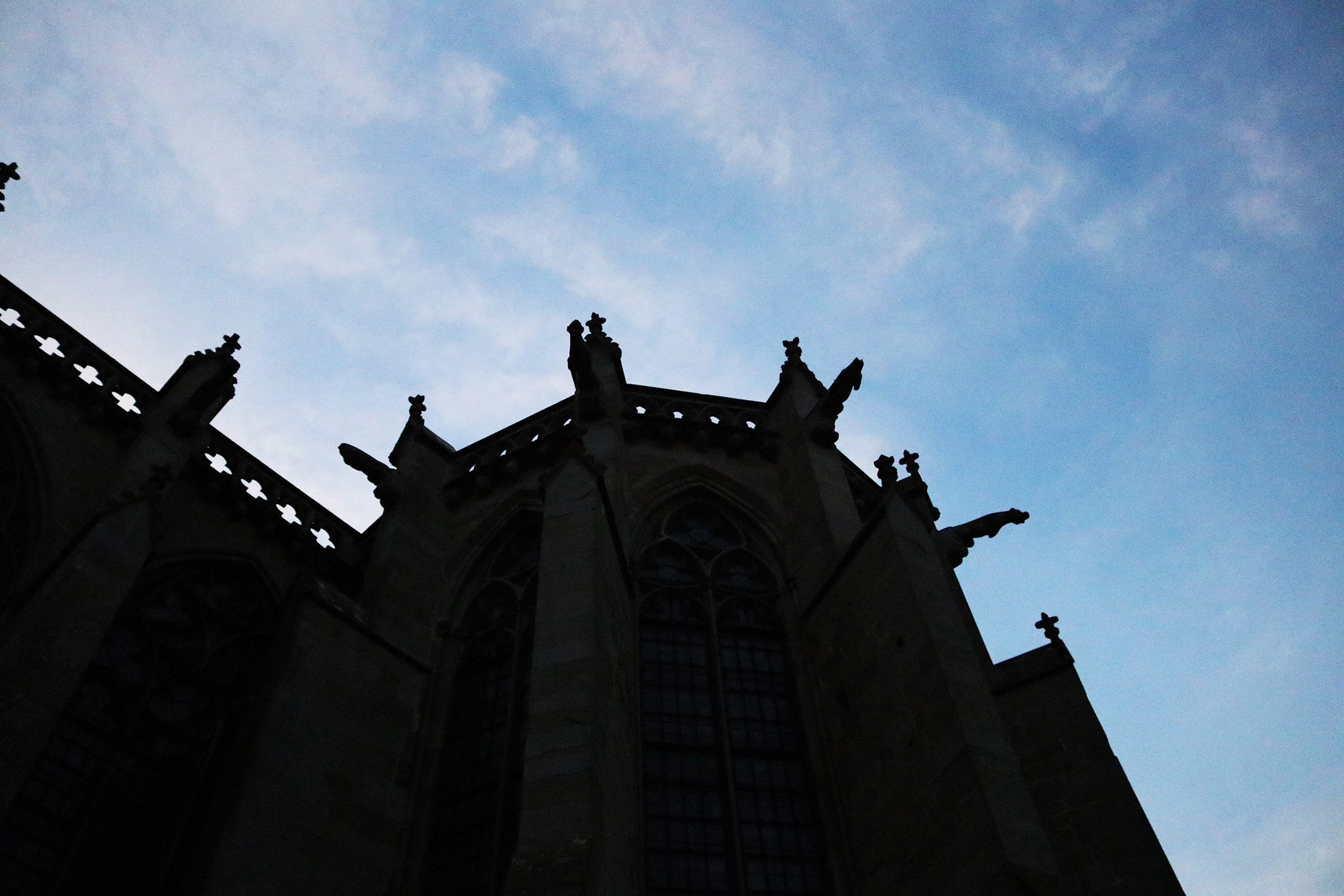 Sunset at Carcassonne was pretty high on my list of things to do whilst we were there, but unfortunately the weather had other ideas. The clear skies that had been with us all day (and burnt my shoulders by the way) were now being blocked by a thick layer of cloud that had started to come in. Unfortunately, this did not bode well for my photography plans. The sky was completely lacking in colour, and no matter what setting I used or what way I pointed the camera, the photos all just looked a bit flat and dull.
I tried out a few different locations, within the castle walls, walking around the old town perimter, even up on the castle walls, but it just wasn't working for me. It wasn't really the scene I had imagined for my photoshoot, but there was nothing we could do.
So after an hour or so of walking around trying to get some good shots, the sun had finally set and it had begun to get dark, so I gave up on the sunset shoot, and my cousin and I decided to do something a little more fun.
Whilst we were up on the wall walking around the town, we found a spotlight shining up onto the castle walls. As my cousin walked past, there was a turret in the stone wall allowing the light to shine through onto her face. It was the perfect spot for another one of our infamous photoshoots, so of course we took full advantage of this.
I started by taking phots of her whilst she threw her best poses at me. Put a camera in front of her, and I swear, she turns into a professional model. Such a natural in front of the camera, and she has no problem showing this off.
To add to all of this, the backdrop was incredible. The castle walls were lit up with the spotlights that lined the perimeter so they looked absolutely beautiful. We literally couldn't have found a better place to stop and vogue.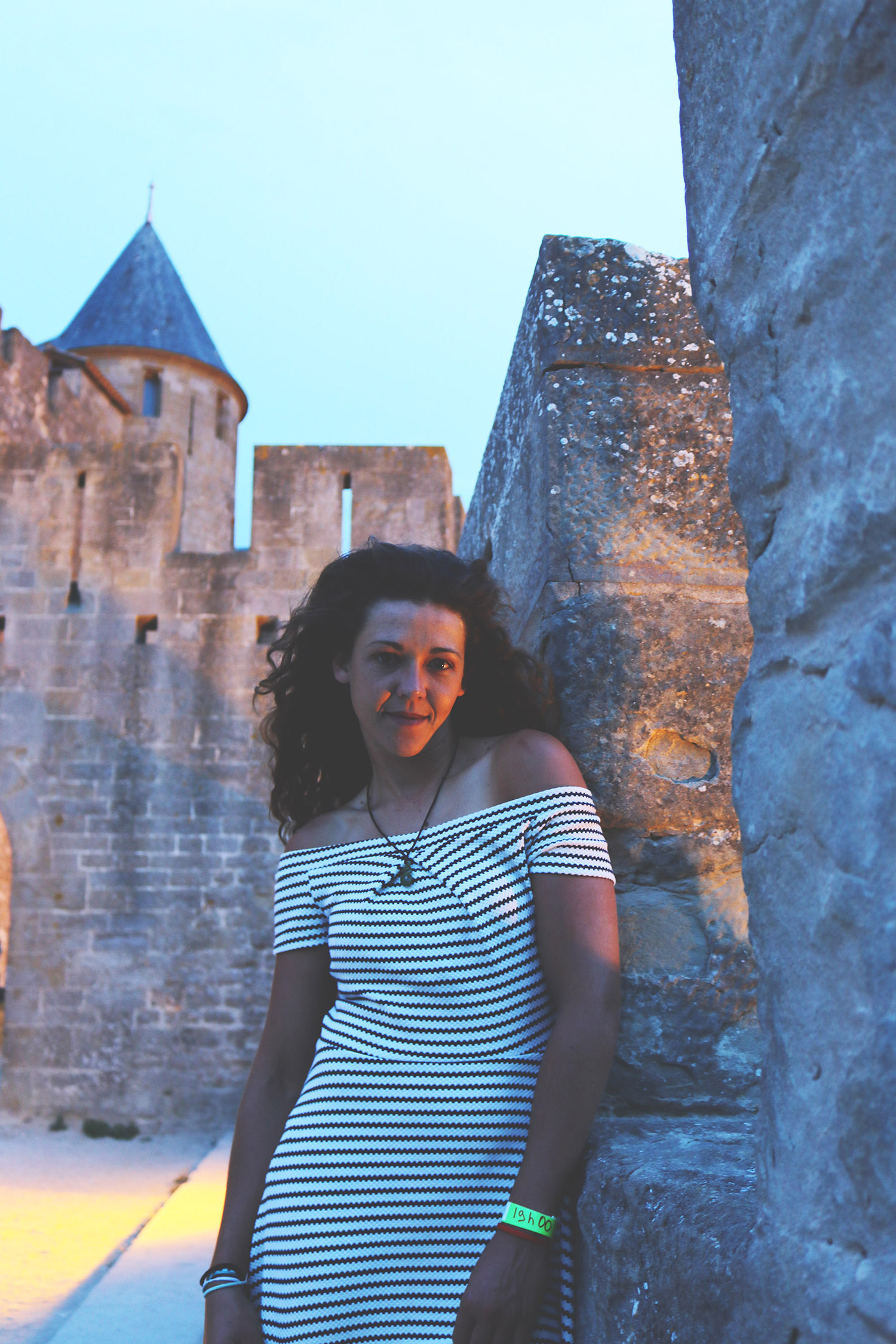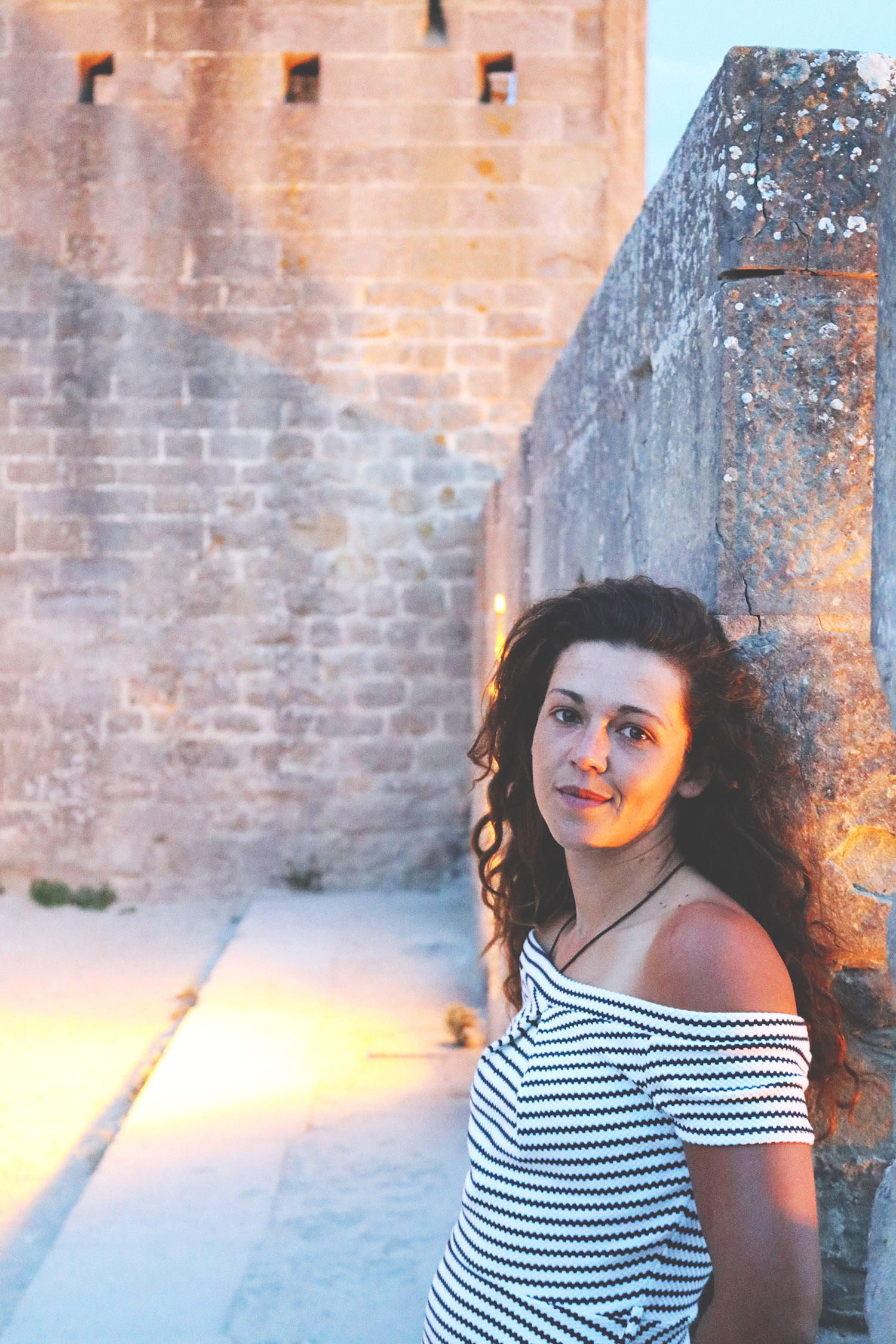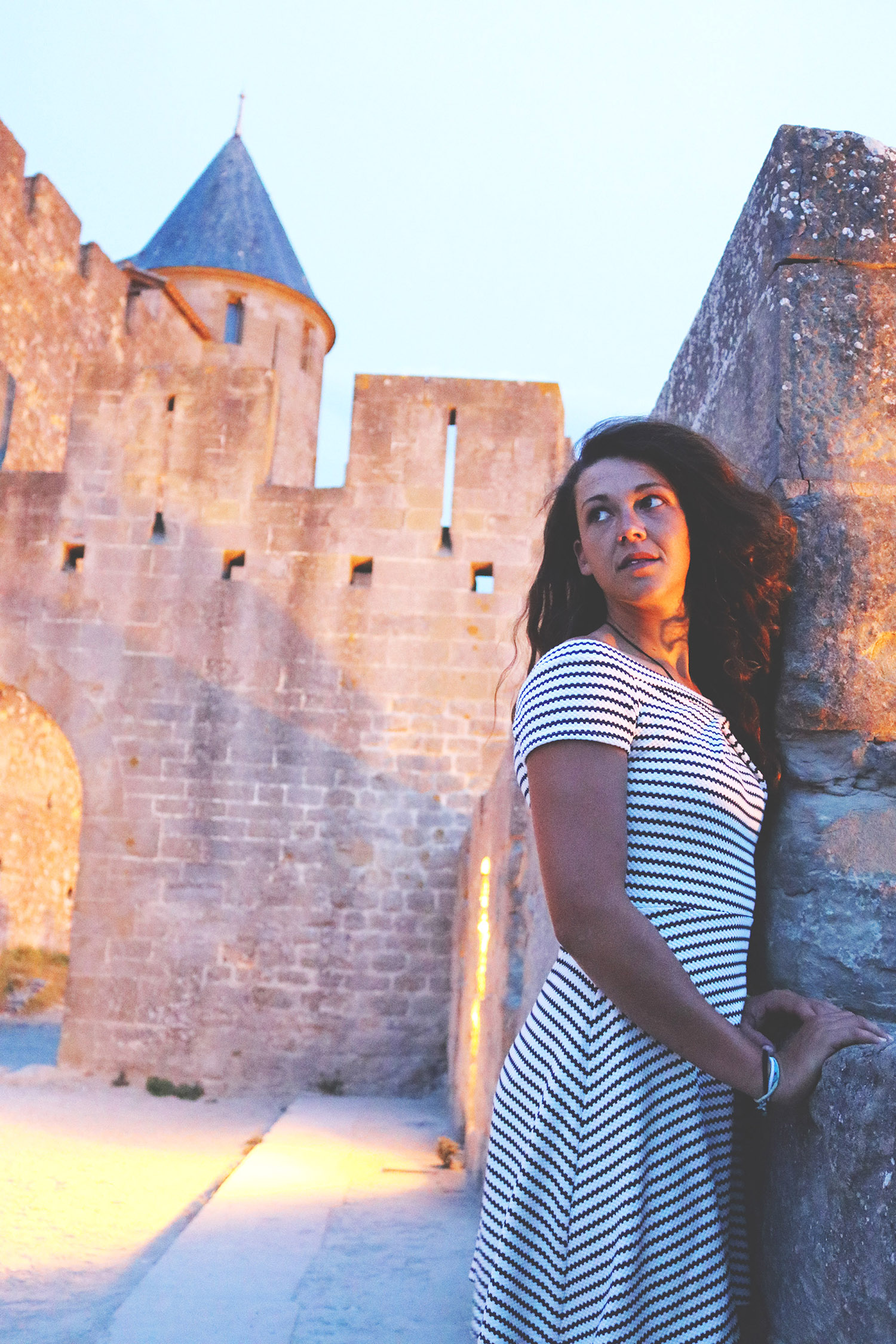 We were having such a laugh doing our little photoshoot, again, we completely forgot how me must have looked to all the passers by. And given that it was still the height of the tourist season, there were a fair few passers by. We probably looked completely insane, but we couldn't care less. This is why I love coming out to France to see my cousin. We are both as crazy as each other, and when you put us together, we are unstoppable.
Once I had taken a fair few photos of her (well into the hundreds I reckon), she needed a bit of a break and ordered me in front of the camera. I'm definitely not a natural like my cousin, but she was trying her best to help me, yelling instructions at me like something out of an Austin Powers movie. I literally dread to think what the people walking past us were thinking. There was definitely a few strange looks heading in our direction.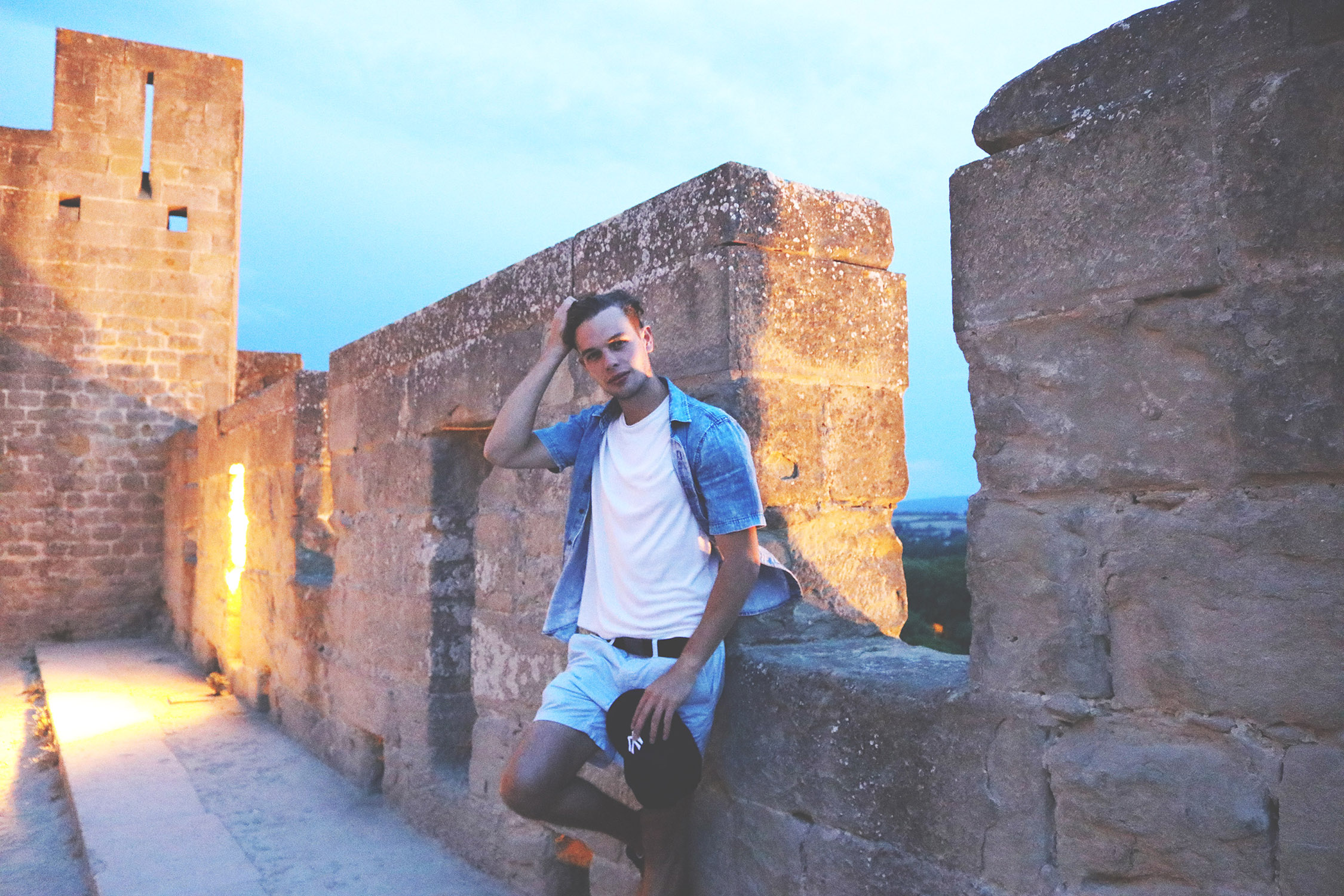 But anyway, that didn't matter to us, were were just enjoying being together again and having a laugh. Following on from our shoot, we then decided to head back into the city itself to find a place for a bit of dinner. We found a lovely spot in the middle of a small square where we sat outside, ate nice food, drank nice wine and chatted like a couple of girls. Days like this are simply the best.
The next day, we were up super duper early, I'm talking ass crack of dawn here, 5:30am to get out and find a good spot for a sunrise shoot. I had a list of places I wanted to have a look at to see what the view was like. I wanted a view of the entire city from the outside so I could get a complete silhouette against the morning sky. Obviously, I needed to be as far west as possible so I could be facing the sun when it rose. I was hoping that I could find a place that was slightly above the city to get a bit of height and frame the shot well.
So at 5:50 we left the hotel to travel to location number 1 to see what it was like. We drove through these tiny little streets, winding our way through the city, until we finally started heading uphill. Things were looking good so far. The road then kind of turned into someone's driveway so we probably thought it was a good idea to stop here. There was another small road to the right leading down towards another house but it cut through a vineyard which just happened to have a large grass bank on one side.
Up a hill and with a raised bank, it looked like I had found the height I was looking for! I quickly got out the car (well actually, I slowly and rather lacking elegance climbed out of the window – my cousins door lock somehow broke when I got out the night before – whatever she says, it definitely wasn't my fault, I just happened to be the last person to use it when it was working) and jumped up onto the bank to have a look.
The view was exactly what I was looking for. I had some height over the city and I could get the whole skyline into my shot! I was slightly south of the city, so I wasn't facing directly east like I had hoped, but that wasn't going to be too much of an issue, I would still be able to get the colour of the sky in the shot, and from this angle, I thought I might even get the sun lighting up one side of the castle walls which would be great.
Even the foreground of the shot
was what I was looking for. Rows
It was just what I had in mind.
It was still pretty dark, so whilst I was waiting for the sun to start to come up, I did a few practice shots to make sure I was framing the city correctly and maximising the view I had.
I didn't think there was much point trying to rush off and find a new spot, sunrise was fast approaching, and I didn't want to miss it, not after the effort of getting up so bloody early! I signaled to my cousin to say this place was good enough and she then rushed off back into town to source us a couple of coffees. It was after all, 6am!
I was shooting in aperture priority mode, letting the camera deal with the shutter speed for me. I had read that this was a good technique to follow when shooting sunrise. I'd never tried it before but I thought I would give it a go anyway the first few shots were coming out a bit dark, so I opened the aperture a bit to let more of the morning light in.
It was going to be a bit of a challenging shoot for me because as the sun rose, I would need to constantly adjust the settings to make sure I wasn't overexposing. I'm used to just letting the camera deal with all the settings for me, but I wanted to get used to trying to control the camera more to maximise the photos.
Pretty soon, I started to get more of the shots I had in mind. I kept on playing around with the settings to try and emphasise the sky as much a possible, whilst still trying to capture the detail of the castle walls themselves and ensure they were included in the photos and not just there as a silhouette.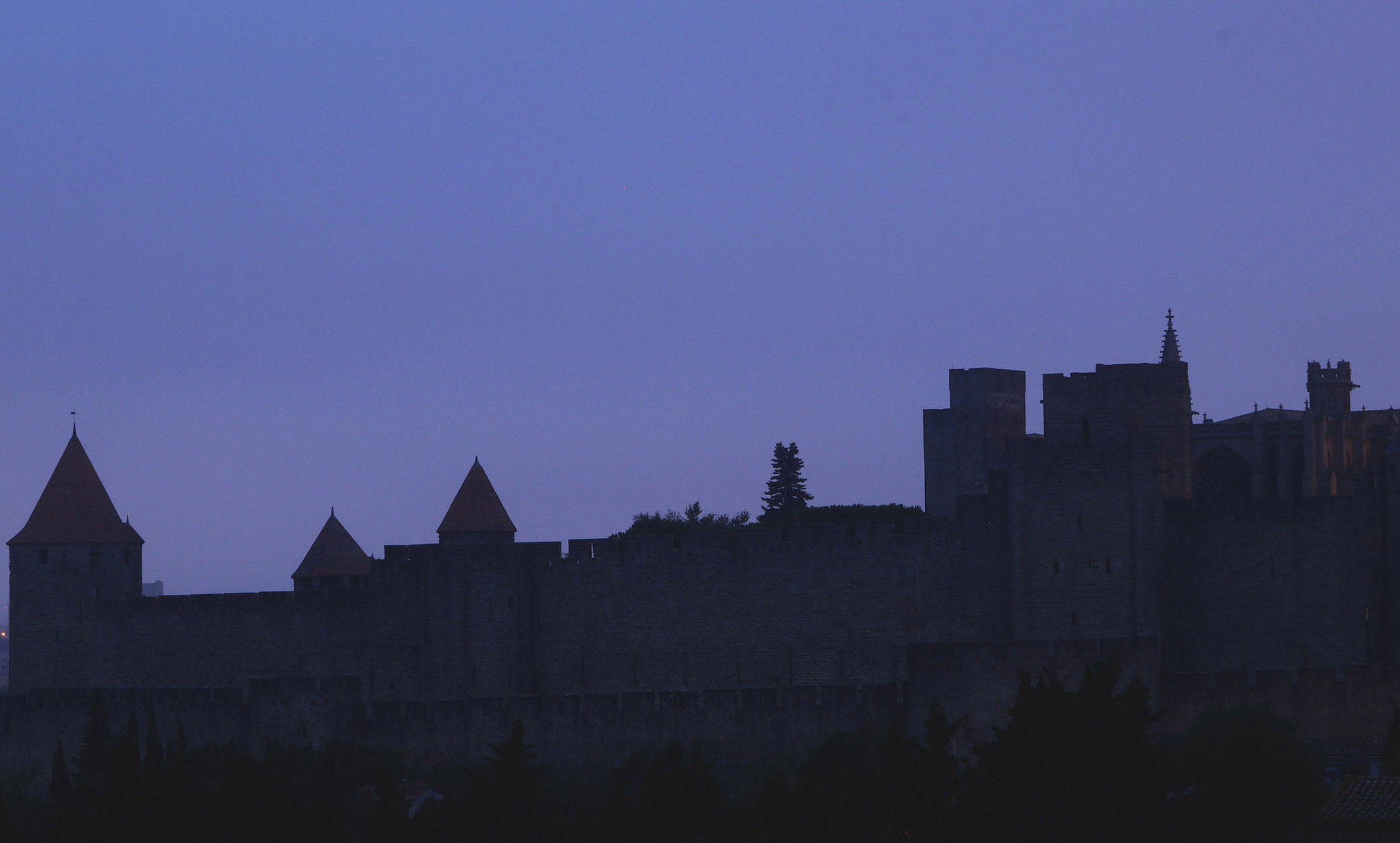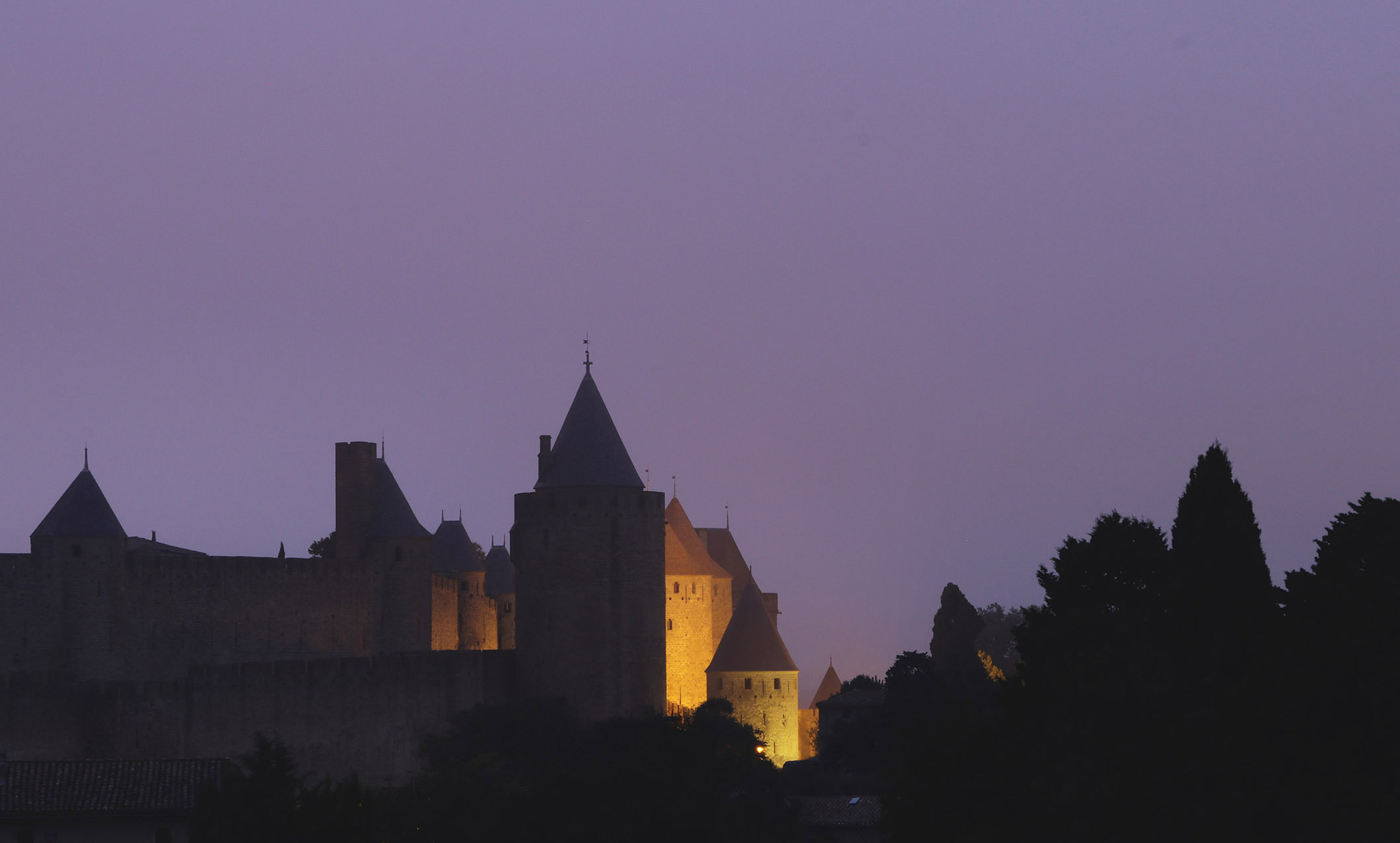 I changed to manual shooting a couple of times just to see if I could change the shots a bit and add a bit more to them which was a good learning exercise, as I rarely shoot in manual.
It wasn't long before the sun started to properly rise, and the sky filled with colour. It was a bit of rush, snapping away making sure I didn't miss a moment. I would have been so pissed off if I had missed the best of the sunrise because I was faffing around with the camera settings. As many of my friends and family know, I'm a bit of a faffer at times.
The beautiful colour in the sky only lasted around 5-10 minutes unfortunately, after which, the sky completely clouded over so the only colour coming through was grey. It was much lighter now and the shots I was getting were no way near as nice as they had been a few minutes ago. I then tried to focus more on different sections of the city by zooming in a little, but again, the sky had lost its jazz, and so had my photos.
By this time my cousin had finally returned with the coffee, the miracle elixir to keep us both awake and alive, and so we then decided to call it a wrap and start the drive back to Toulouse to make sure she got to work in time. Her elegantly getting into the car coffee in hand, and me squeezing myself and all my equipment through the passenger window, camera bag hanging onto one shoulder, tripod falling off the other, finally making it into the car and sitting on the morning croissants, always the professional appearance. Naturally.