I f you're in London during the Pride celebration, you'd be crazy not to go and watch it. It's the sort of thing you just have to go and see, at least once. I was completely unaware of this last year and unfortunately missed the parade altogether. Luckily for me, and probably hundreds of others, there's a part two to the pride celebrations, the event held in Trafalgar Square.
They set up a massive stage and have various acts performing all throughout the day, well into the evening. All kinds of acts perform, from small local groups right through to big well-known celebrities. Last year whilst I was in the crowd in Trafalgar Square, Alesha Dixon decided to make an appearance and pop on the stage to sing a few songs, which was pretty cool.
This year, I managed to make it out and into central London on time for the start of the Parade. It started up towards Oxford Circus station, then headed south down Regents Street to Piccadilly Circus. From there it would then turn right down towards Pall Mall. Once the parade joined Pall Mall, it then went all the way up to Trafalgar Square, round the square and down Whitehall, where it ended, just behind The Horse Guards Building.
A few of my friends were heading up to Oxford Circus to watch it as it came down Regents Street, but I didn't really fancy heading up that North. Oxford Street is one of the busiest places in London on a Saturday as it is, factor in the additional hundreds or thousands of people who would be heading out to watch the parade and for me it would just be unbearable.
One of the main things I wanted to do was go out and get some photos of the parade as it passed, and I really didn't think I would be able to do that being in once of the busiest places. That, and I didn't leave the house early enough to make it there in plenty of time to guarantee a good spot, as per.
I decided to head further South, past Piccadilly Circus where Waterloo Place joins Pall Mall. The road is much wider down there and I thought the corner would be a great vantage point to catch the Parade coming round, if I managed to get on the outside of the corner that is. Of course, I didn't. Even though I arrived there with plenty of time to spare before the parade started, I still wasn't early enough, and I had to settle for a space on the inside of the corner. Not the end of the world, but I'll know for next time.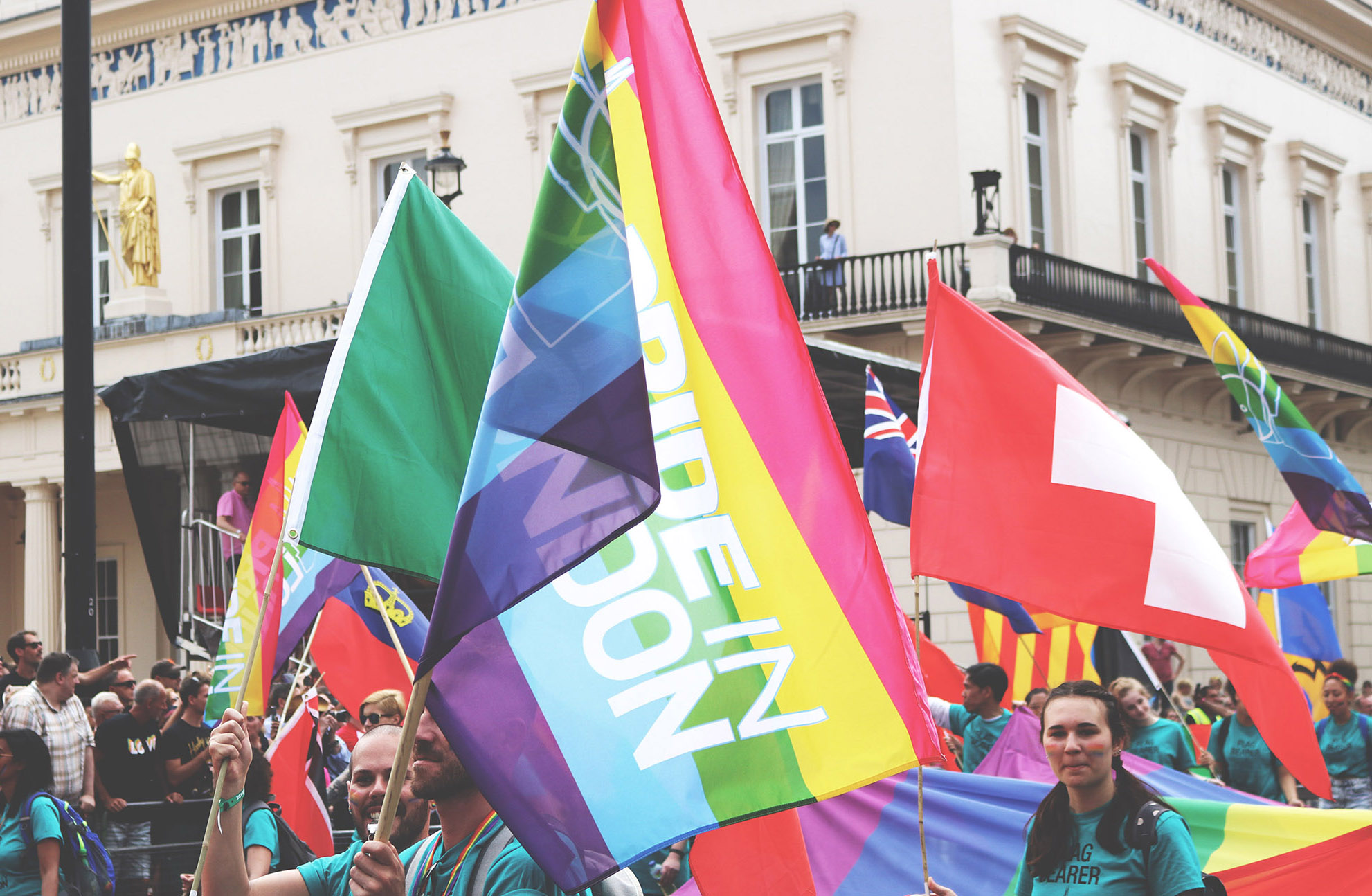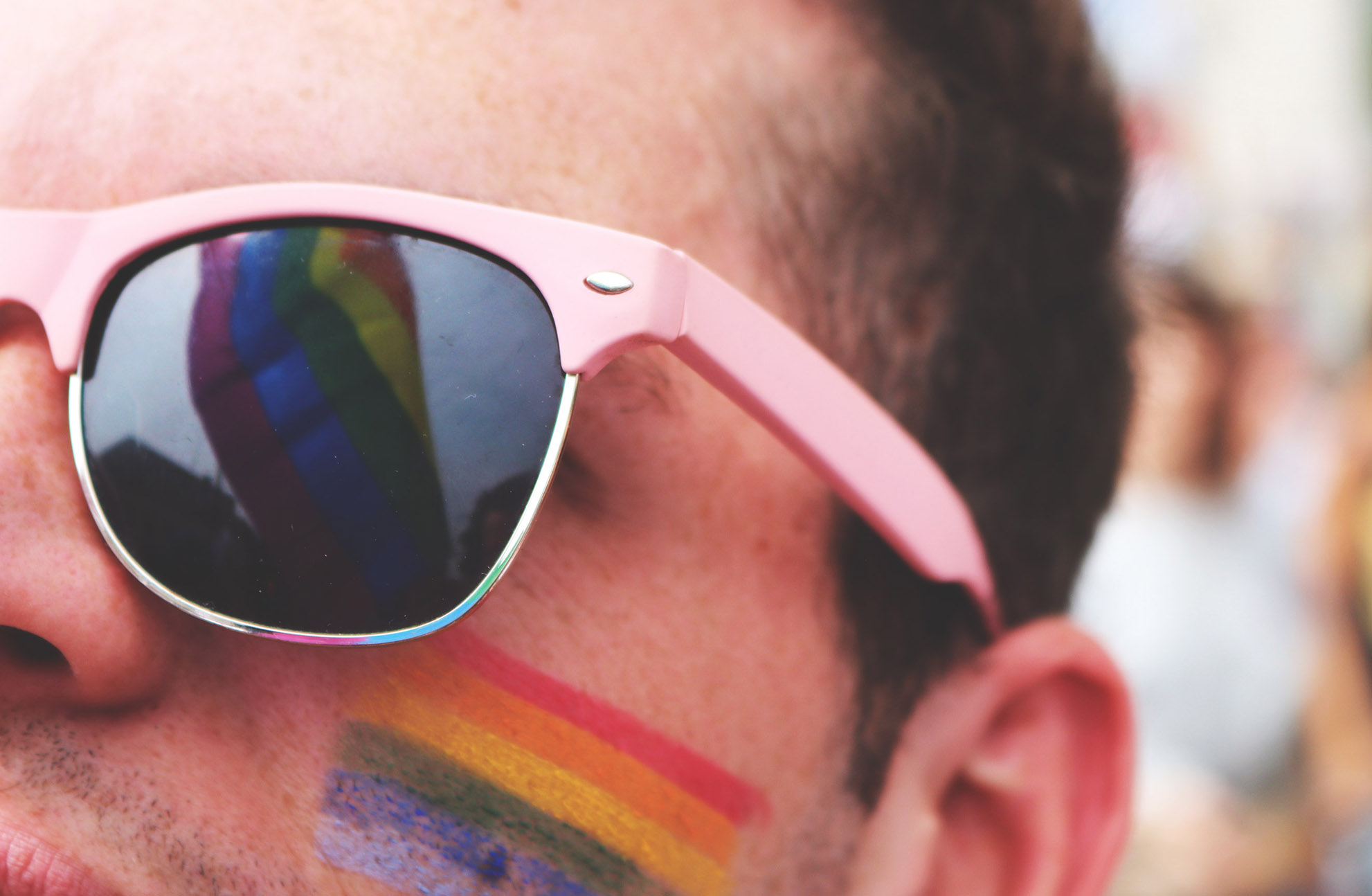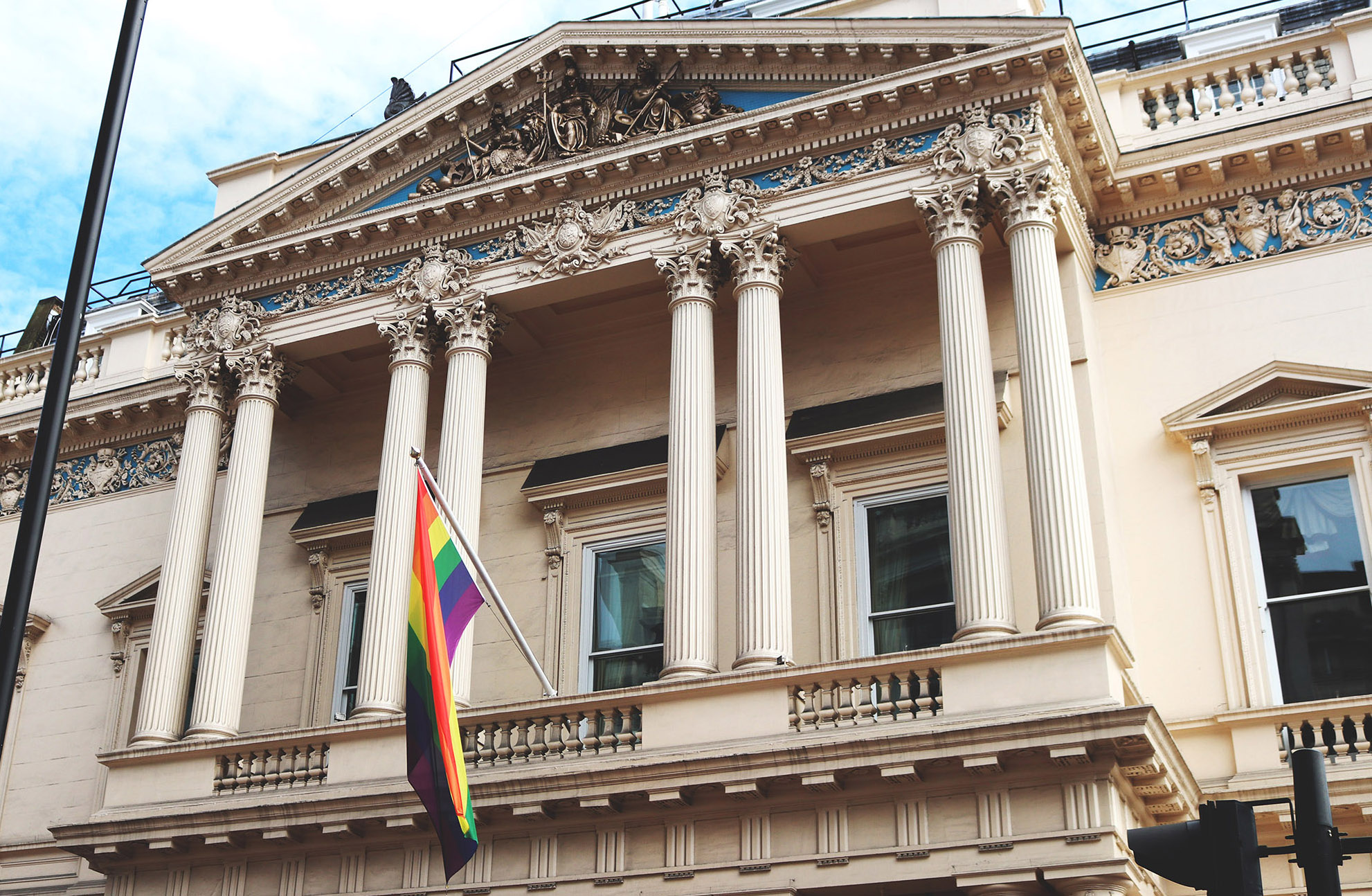 I was joined by a few of my friends, who were quick to brand me up with a few rainbow decorations on arrival, then all we had to do was stand and wait for the arrival of the parade. It all kicked off at 1pm, but we had no idea how long it would take to travel down from Oxford Street to where we were. It wasn't too bad standing around waiting. The sun was shining and everyone seemed to be in a good mood. We were stood shoulder to shoulder with complete strangers, getting pushed or knocked every now and then to mark the arrival of another spectator eager to squeeze themselves into the tiniest gap to get a good view. In any other situation, this would have led to anger and maybe even confrontation, but not here. Not today. The theme of London Pride 2017 was 'Love Happens Here' and you could feel that everywhere.
Everywhere you looked people were happy. People
were just out to have a good time and to celebrate
love, regardless of sex, race, religion, or any other
petty factors that seem to be so important to some
of the more closed minded people of today.
There were of course the odd one or two people trying to stir things up, walking around with an anti LGBT sign, chanting some spiel that they obviously thought was worth sharing with the world. I mean, wrong crowd guys. I'm sure the first rule of public speaking is to know your audience. Preaching anti LGBT messages to a crowd out to celebrate the LGBT community was always going to fail. And it did. No one seemed to be batting an eyelid. Their voices were simply drowned by the sound of people out having a good time. They were merely whispers attempting to overpower the strong voices of thousands. It was so satisfying to see them shut down so easily.
Anyway, enough of that, after 45 minutes waiting in the London Sun, the parade slowly started to trickle down to where we were standing. There's only one way to really describe it, it was fabulous. Nothing I write will be able to do it justice, so hopefully you will be able to get a sense of the atmosphere from the photos, but it was just fab.
Every float that passed us was quite literally bursting with life. People were crammed onto the floats smiling from ear to ear, singing, dancing, laughing, loving. Beside the floats, the rest of the street was filled with people walking with the parade. Every kind of person you could possibly imagine. People who were just proud to be themselves. No one was pointing and laughing, no one was questioning anyone else's choices on how they want to look, or how they want to act, everyone was just accepting every single person that passed them as someone being themselves, and it was wonderful to see.
The diversity of the people that were passing me reminded me of one of the reasons I love London so much. Everyone was different, everyone was unique, and I was loving every minute of it. I was so busy snapping away on my camera trying to capture every moment of the action, that sometimes I had to stop myself, put my camera down for a while and just enjoy what was going on in front of me.
The amount of colour that was exploding from the parade was incredible. Every single float, every single person on it, and every single person walking along the street was dressed head to toe in bright colour. Everything they were carrying was just as colourful. It was like you had given a box of crayons to a child and let them go wild, it was fantastic. It just added to the positivity of the whole event, people's bright and colourful personalities materialised into an outfit.
In addition to the outfits, there was of course the face and body paint. And the glitter. So much glitter! People's faces and bodies were shining just as bright as their smiles. Again, I was trying to capture this on camera, but I got far to into enjoying myself to keep snapping away!
As you can imagine, the colour wasn't contained to the parade itself, the whole crowd was just as colourful and extravagant. People walking around with rainbow flags draped over their shoulders – a couple of whom didn't have much else on. Rainbow shorts, rainbow shirts, rainbow hats, every possible item of clothing you can imagine, merging together into a sea of colour lining the streets of London to enjoy the event.
London Pride was such special day and such an amazing event to attend. It was so nice to see London, the city I call home, the city I fell in love with standing proud as a city that accepts people for who they are, all sending the same message.