T he aim for today was to head into central and do a bit of Christmas shopping. Whilst I was there, I also planned to get a couple of photos done. I wanted to get some Christmassy photos and there were a couple of street signs I also wanted to include in my project. London street signs are quite recognisable so it was important to me to include them.
I started by heading to Tottenham Court Road, then I wandered up towards Carnaby street. The shop I was looking for was somewhere close to Carnaby Street from what I remember, but I wasn't 100% sure. I hadn't been there before, I'd only waked past it one after a few vino's so my memory was a bit blurred. Anyway I managed to find it okay so once I had finished shopping I started to look for places to go taking photos.
I had heard that Carnaby Street had some really nice decorations this year, so I thought that would be a great place to start. From there, I thought I could then have a wander around Oxford and Regents street and see what they were like.
When I made it to Carnaby Street, I expected to see Christmas lights decorating the streets, but instead there were large illuminated signs hanging between the buildings. Each one displayed a different word, "Peace, Love, Kiss, Joy, Rebel, Hope, Wish". I think they were put up as part of a celebration of the Swinging Sixties, an exhibition by the V&A. They weren't what I expected to see at all. I expected the usual Christmas lights, stars, trees, snowflakes etc etc. Anyway, I think they looked really nice displayed above the streets. Everyone was looking up and admiring them, stopping to take photos, and I guess they were quite festive. Lots of Red and Gold going on.
The idea behind the signs also made the display special. The celebration of the peace and love attitude of the swinging sixties represented in decorations proudly hanging above the streets of London created such a positive atmosphere. It was really nice to capture this and add it to my collection.
Once I had finished photographing Carnaby Street I wandered down towards Regents Street. I wanted to get a couple of shots of the Liberty's shop front. It was another iconic London sight that I couldn't leave out of my project.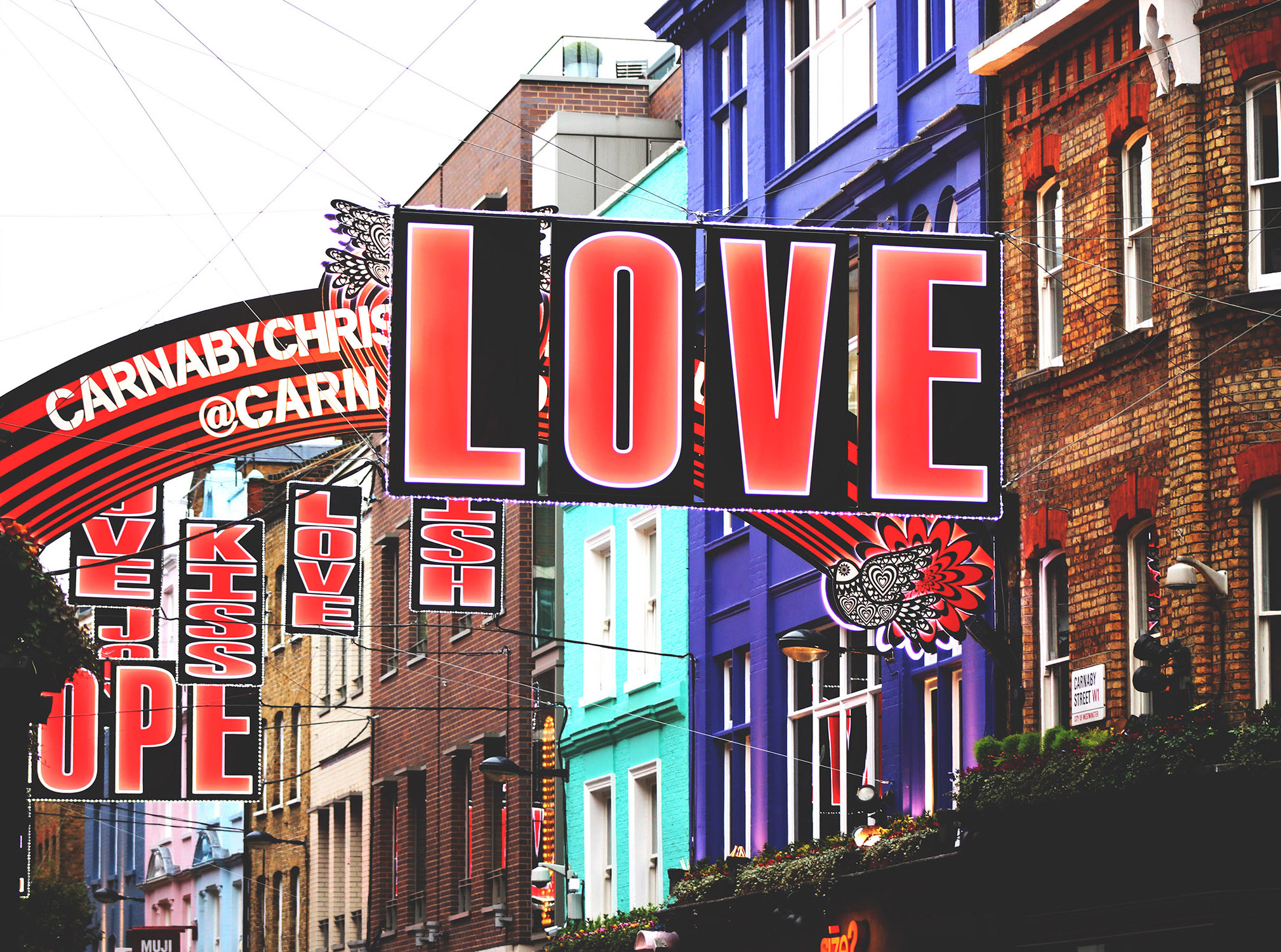 From there I headed down Regents Street through Piccadilly Circus to Pall Mall. There were some lovely Christmas decorations all along the way, including a pretty impressive Christmas tree at the Guards Crimean War Memorial.
I then started to make my way back to get the train home so I headed up through Trafalgar square. Whilst walking through the square, I noticed that most of the green men on the pedestrian crossing traffic lights had been replaced with symbols celebrating the love between people regardless of gender and sexual orientation. The signs were changed as part of the London pride celebrations, but due to them being largely praised by the capital, they had not been taken down. The signs signify the city's acceptance and importance of the LGBT community, and reflect the diversity of the people that live, work and travel here.
I thought they made excellent photos to
include in my project. I wanted to show
and capture the real London.
There were of course complaints from some, who found the signs 'confusing' and 'misleading'. Some were quoted to be saying 'I thought the two female symbols meant only females could cross the road' and 'Does it mean that women have to walk on one side and men walk on the other?'. I mean…really?…seriously…are those genuine thoughts that have come from peoples heads?
Anyway, that aside, finding these signs was a wonderful way to end my day of photographing, and I would be proud to display these photos in my London Project.